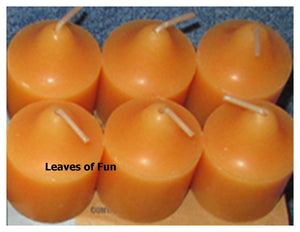 PartyLite 1 DOZEN Votive Wax Candles - 2 BOXES = 12 VOTIVES ~ LEAVES OF FUN
Regular price
$14.99
$0.00
PARTYLITE COLLECTION SCENTED WAX
LISTING IS FOR ONE DOZEN (12) VOTIVE CANDLES
2 BOXES / 6 CANDLES PER BOX = 1 DOZEN (12) VOTIVES
IN SCENT LISTED IN TITLE
ALL OTHER SCENTS AVAILABLE AND LISTED SEPARATELY
ALL PartyLite WAX is skillfully and competently infused with artfully selected fragrance & coordinating combinations of fragrances throughout the candle wax formation, which ensures your enjoyment from first light to last! 
~~~~~~~~~~~~~~~~~~~~~
Votives: 
One of the most popular candle forms (AND SADLY NO LONGER BEING MANUFACTURED), PartyLite votives feature a special bell-top design that allows the wax to be fully consumed.  As the candle burns it liquefies for a beautiful, translucent glow. Extinguished votive will re-solidify for relighting when ready to enjoy again!  DON'T FORGET TO TRIM WICK PRIOR TO FIRST AND SUBSEQUENT LIGHTING. 
Approximate burn time for each votive: 8 - 11 hours.
1 Dozen (2 Boxes - 6 per Box) Votives supplies you with 96-132 hours of fragrant enjoyment!!
~~~~~~~~~~~~~~~~~~~~~
Tealights: (LISTED SEPARATELY)
Exclusive tealight design features a patented plastic cup that allows the wax to liquefy and pool at the center for the safest, best burn possible.

Approximate burn time for each tealight: 4 - 6 hours.
1 Dozen Tealights (1 Box of 12) supplies you with 48-72 hours of fragrant enjoyment!!

~~~~~~~~~~~~~~~~~~~~~
WHAT MAKES PARTYLITE WAX DIFFERENT?

PartyLite integrates fragrance throughout the entire candle for the best home fragrance experience available. Carefully crafted and perfectly scented, these candles bring you the finest, long lasting in-home fragrance, made from the finest natural essential oils and ingredients

PartyLite meticulously created their own unique non-toxic wax blends to deliver top performance from each wax formed candle.

Fragrances are carefully created by world-renowned fragrance houses using the best ingredients from around the world.

Each Wax Candle is carefully formulated throughout for the same "true-to-life" scent from the first light to the last with an exceptional experience in "cold throw" (unlit) as in "hot throw" (lit)

Cotton wicks resulting in a generous wax pool for the best fragrance lift from start to finish

Made with all non-toxic, high-quality paraffin and soy wax blends which offers a consistently clean burn. Free of parabens, phthalates, sulfates and palm oil
Cruelty-free – ingredients are never tested on animals
Fashioned with lead-free, 100% cotton wicks stabilized in wick clips for added safety
Compliant with worldwide safety standards

MORE SCENTS TO COME!!! 
PLEASE NOTE: SOME BOXES SHOW WEAR FROM STORAGE BUT CANDLES ARE ALL NEW AND IN PERFECT CONDITION
Please ask if looking for particular scent - current or retired!! 
ALL ITEMS HAVE BEEN STORED IN CLEAN, CLIMATE CONTROLLED, SMOKE FREE HOME!
MOST SCENTS ARE RETIRED AND HARD TO LOCATE
Click Below to see list of:

---
Share this Product
---
More from this collection